Get noticed, get discovered and add credibility to your business.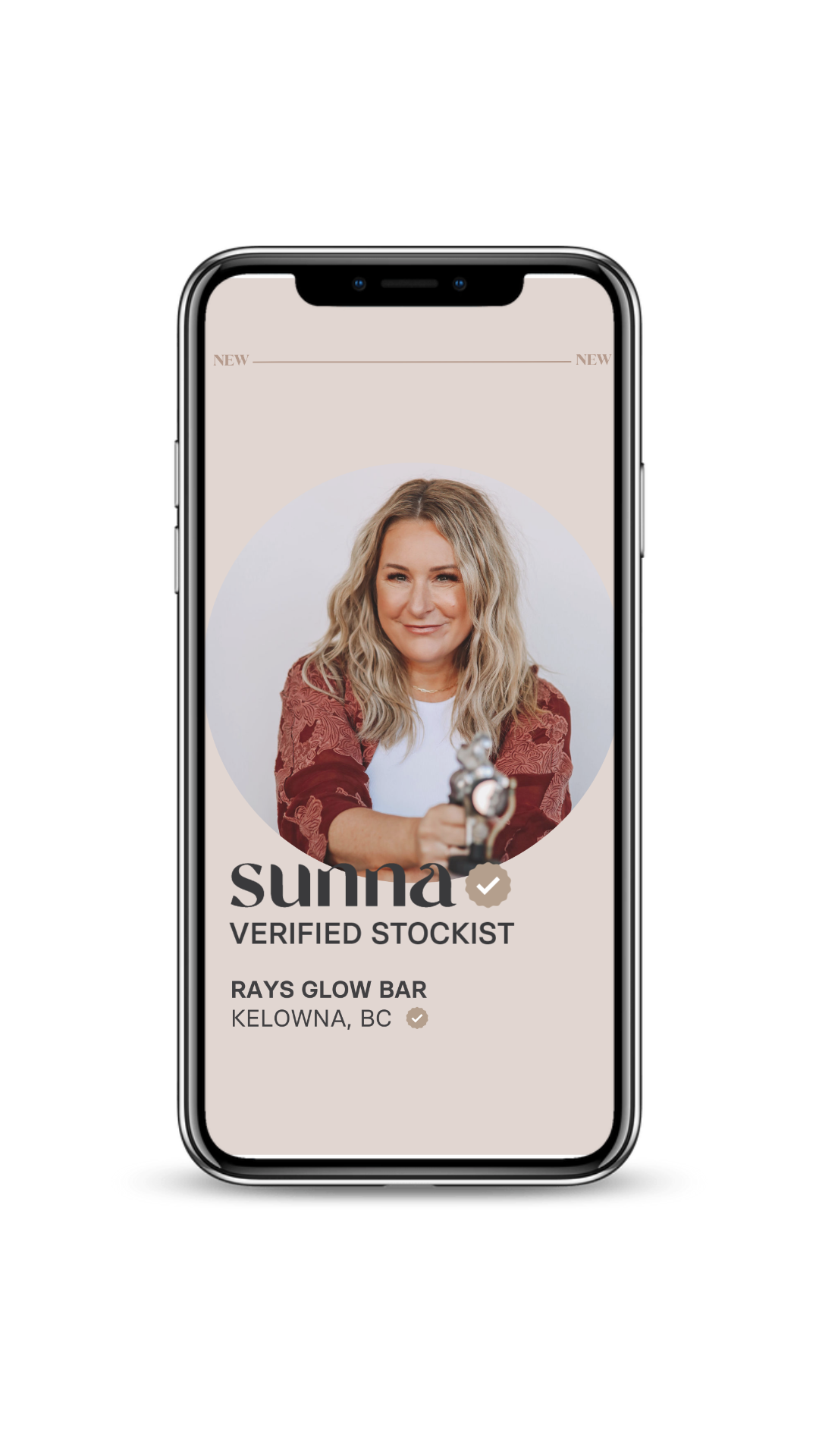 Your business listed on Sunna's websites with our interactive store locator
Our customer service team will refer the hundreds of inquiries for Sunna Locations that we receive, to you!  
Program promoted on our Social Media channels as both a "Local pickup" and "Find a Pro near you" 
Get a Verified Sunna Stockist badge & customizable social media assets to show off that you're verified! 
Get 10% OFF with your exclusive discount code only available for Verified Stockists on all your SunnaTan and SunnaSmile orders!* (*available for annual subscriptions) 
Get access to the Verified Sunna Stockist Community inside SunnaSchool where you'll learn tips and tricks to make the most out of your subscription
Early access to product releases!
And more! 
*To become a Verified Sunna Stockist, you do not have to exclusively carry Sunna products, but you must do at least ONE of the following:
Carry SunnaTan retail
Carry SunnaSmile retail
Offer SunnaTan Spray Tans
Offer SunnaSmile Teeth Whitening Services

YUP! I NEED THIS!
Set up for Success
Make it work for YOU!

When setting up your profile, you can select all that applies to you: if you offer SunnaTan Retail, SunnaSmile Retail, SunnaTan Spray Tans and/or SunnaSmile Professional Whitening. Customers can filter for either or both products & services based on the brand.


Get Your Brand Exposed

Make it an extension of your brand, by having the ability to link your website, your social media and your booking sites. You can even upload your logo & automatically direct your customers to your location via Google Maps. This is designed for all types of business including mobile! The store locator allows you to input your service area. 

Use Sunna's High Traffic

Don't be shy about it! Leverage Sunna's 10+ years of building its name and awareness. We have spent years building and perfecting a brand & SEO Optimized site to drive traffic - and now help drive traffic to your business & online store! 
Check out the Store Locator
When customers in your area are searching, the map auto detects their IP address and automatically shows them your business.
They can also see what product lines you carry and what services you offer.
↓↓↓
GET ON THE MAP!