Have you been looking for a simple way to add extra income?
Teeth Whitening is the easiest extra passive income or add-on to your existing business! You and your clients will love SunnaSmile's natural & organic product line. When you become a pro, you'll get access to wholesale pricing, free marketing material, and all of Sunna's business tools.
BECOME A PRO
Reach a whole new clientele through this in-demand service.
Whether you operate a beauty business out of your home or in a salon setting, your average client order value will sky rocket by adding the professional service. Teeth Whitening complements any beauty service!

All Natural Product
Sensitivity free
Made with Natural ingredients
Enamel Safe​
Whitens teeth 2-8 shades in only 20 minutes!
​Registered natural health product made in a government regulated lab 

*SunnaSmile Teeth Whitening Specialist Certification (and choose your kit)
Regular price
$250.00 USD
Sale price
$79.00 USD
Unit price
per
-68% off
Sale
Sold out
Share
View full details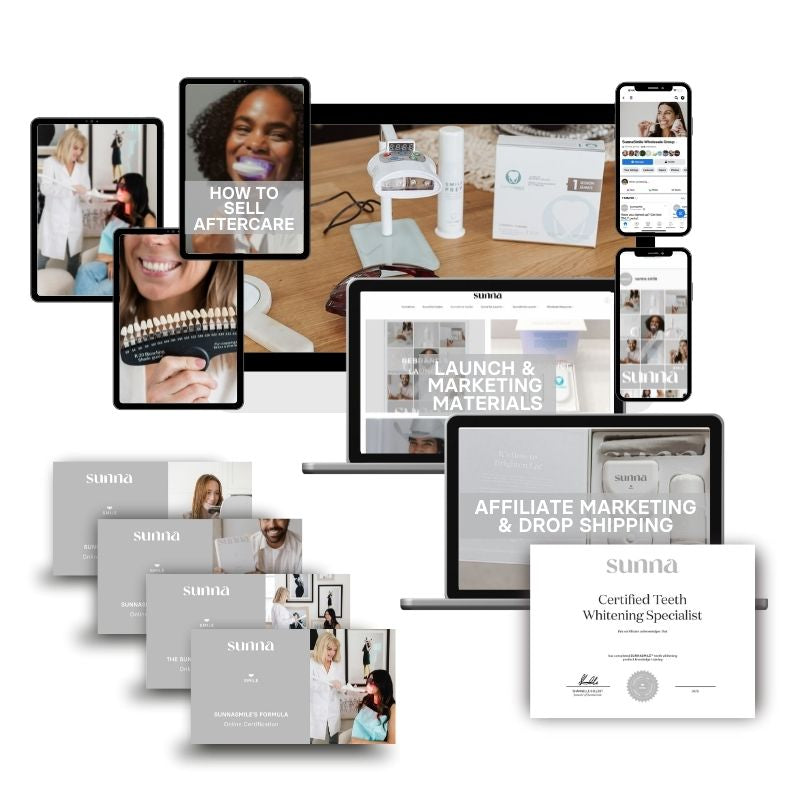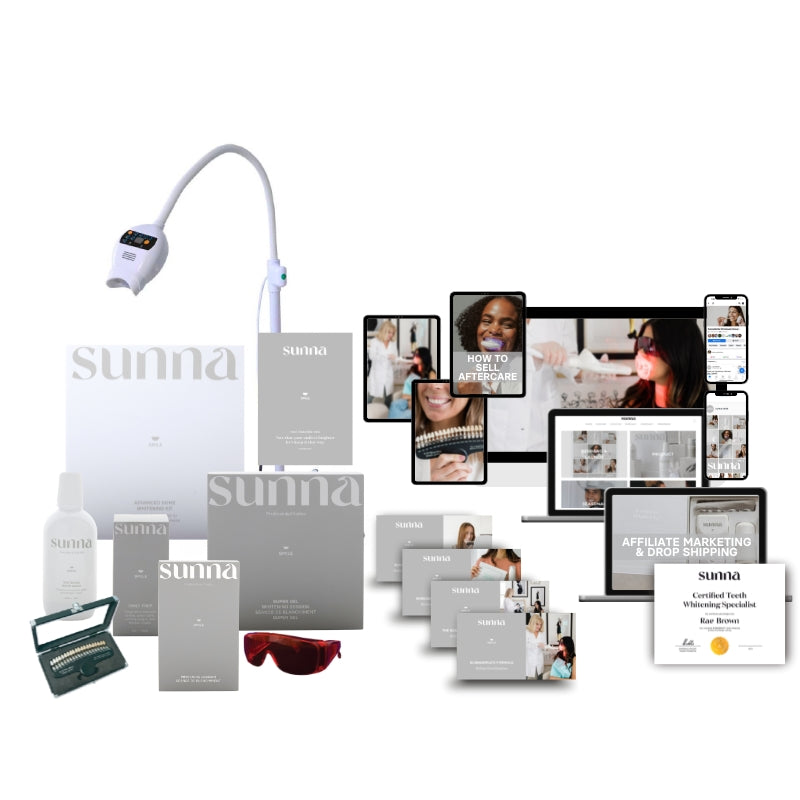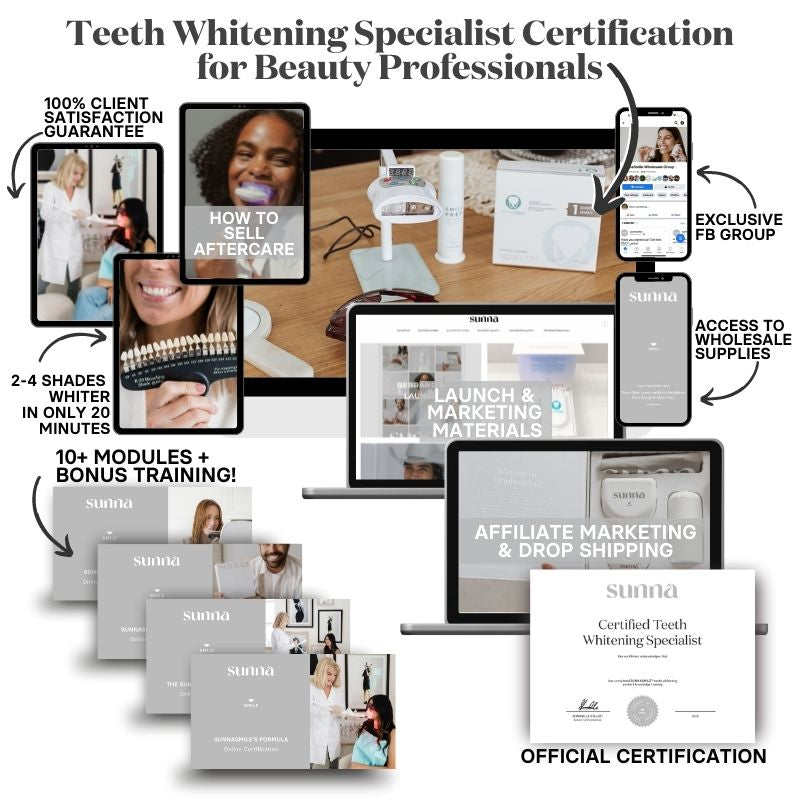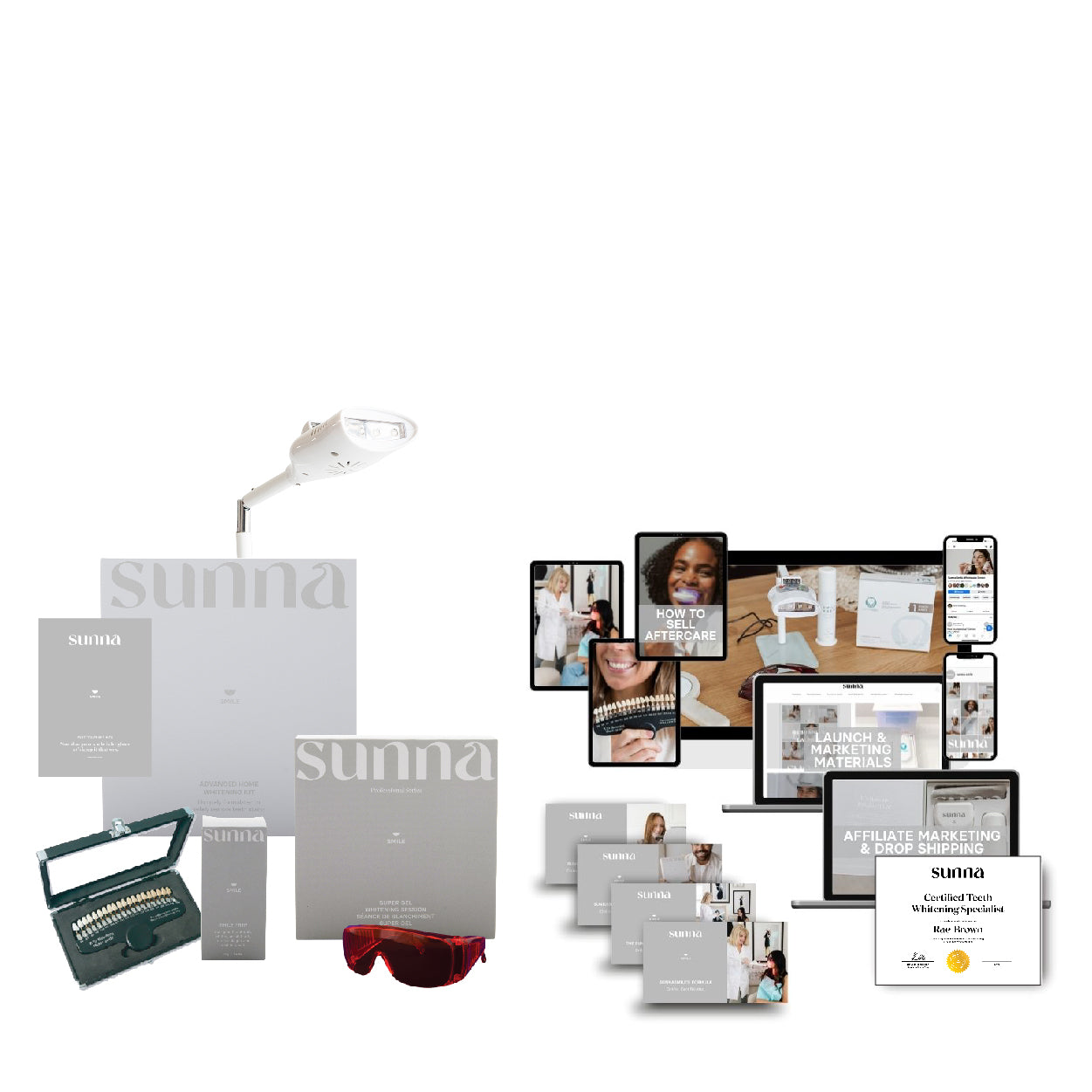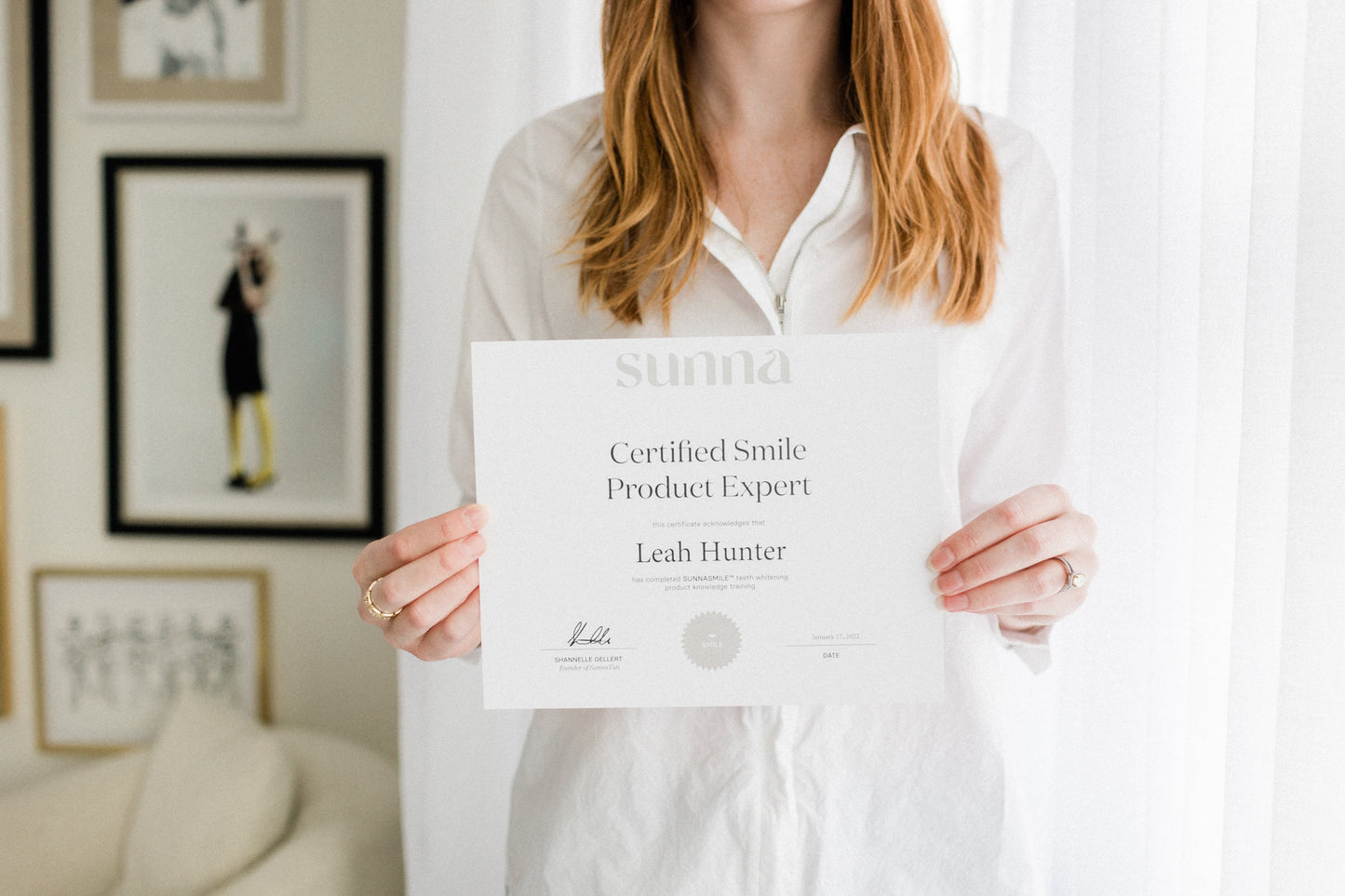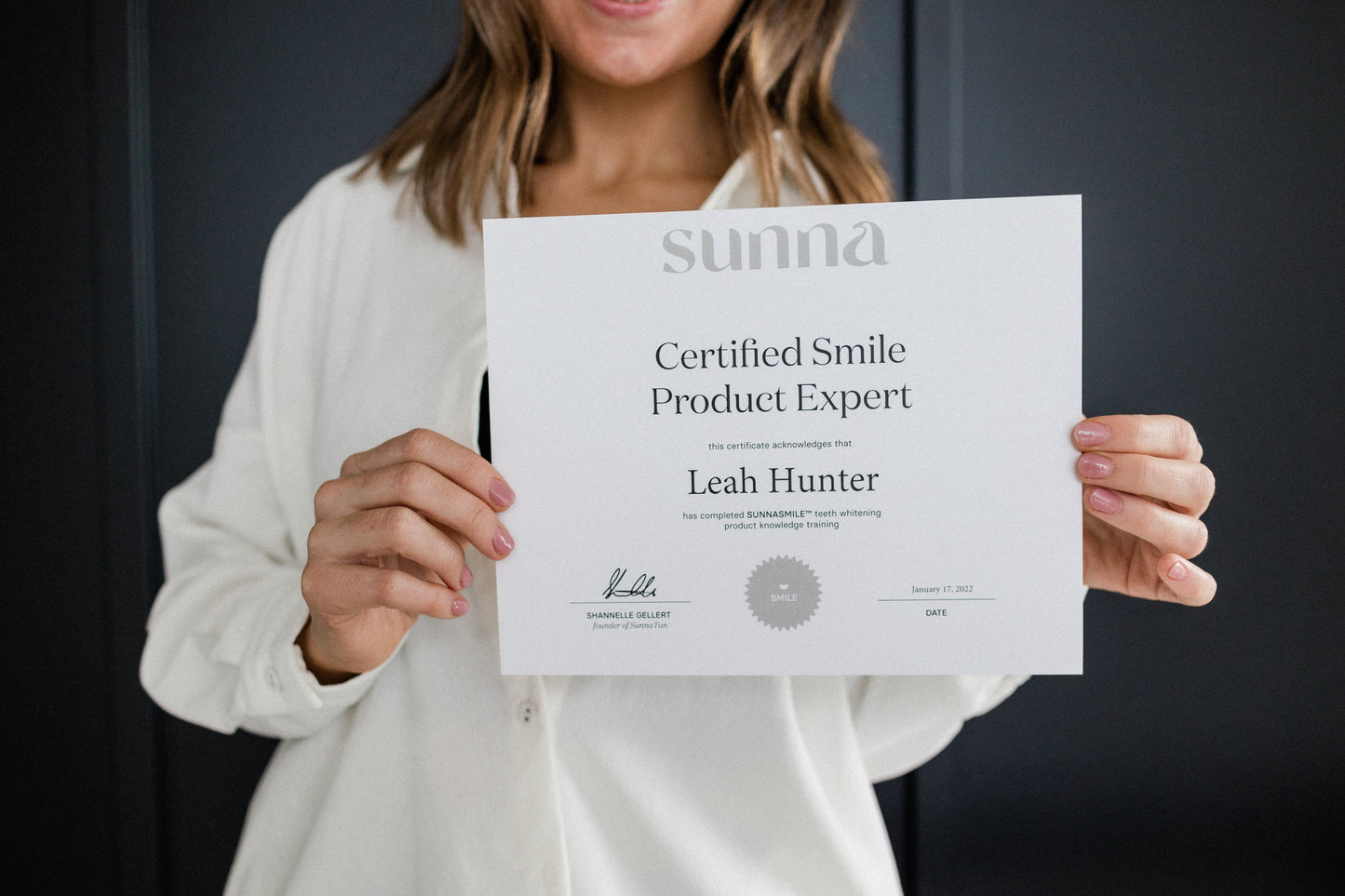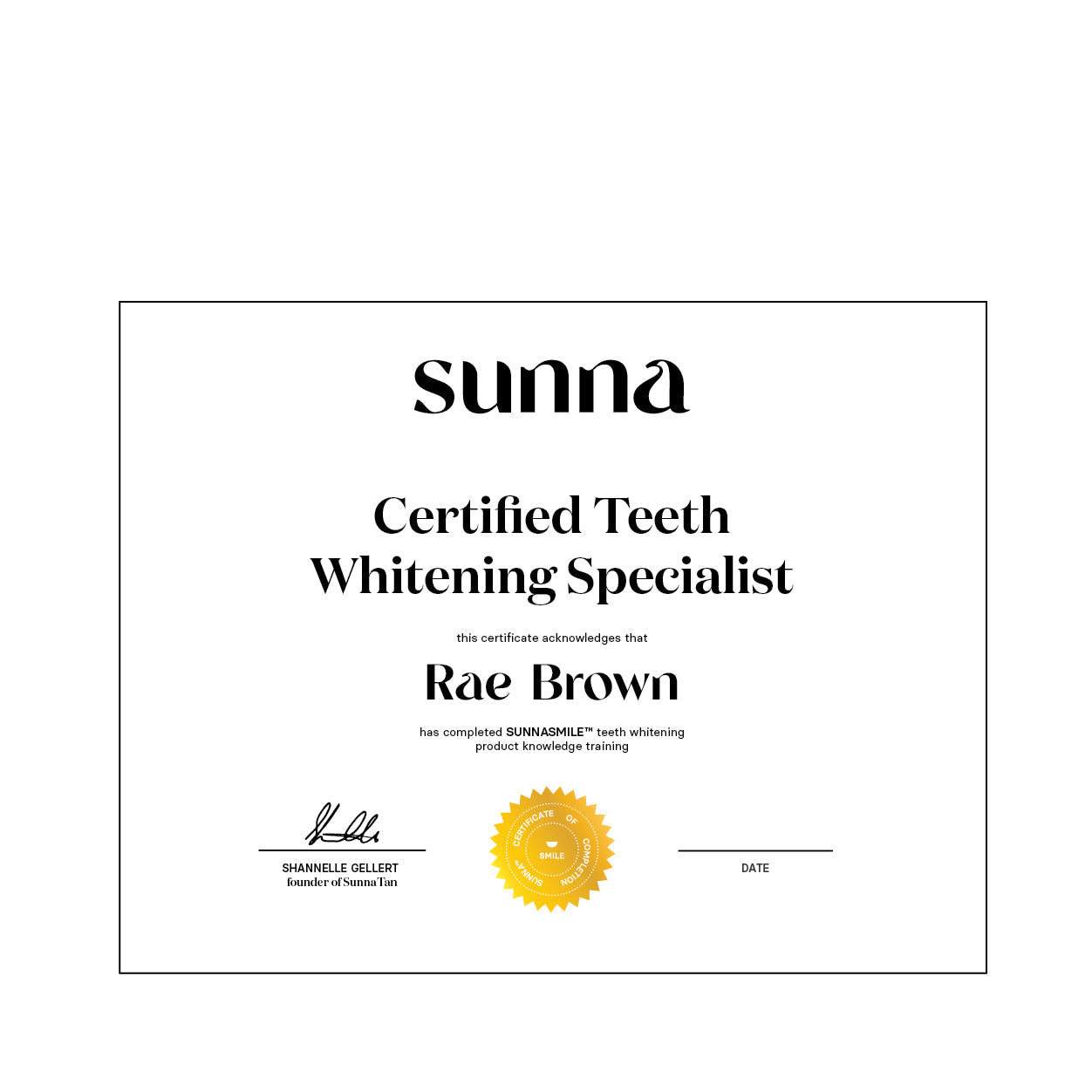 Get Teeth Whitening Certified​
Complete your Certification in as little as 1 day and get lifetime access to online training: 29+ modules, 6+ downloads, 8+ videos.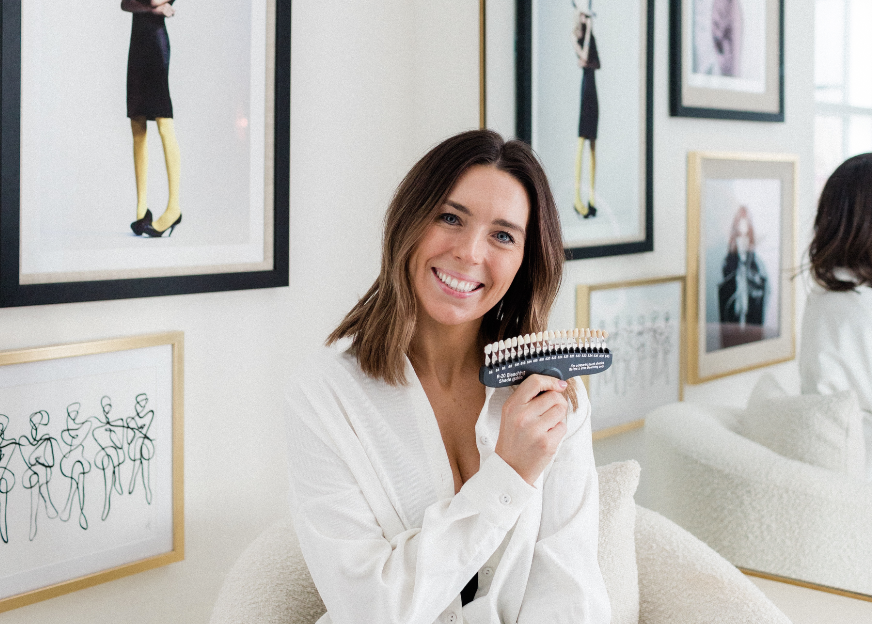 WHAT YOU'LL LEARN:
• How and Why Teeth Whitening works 
• The science behind the products 
• How to use SunnaSmile professional and retail products
• When & how to recommend them
• Complete SunnaSmile process designed specifically for beauty professionals.  
•How to integrate SunnaSmile into your beauty business  
• How to make money immediately without seeing clients in person & no up-front investment
GET CERTIFIED
Game changer for my business!
"I have a spray tanning salon and wanted to add a service that gave me a good return but even more importantly a superior product. SunnaSmile teeth whitening is my big money maker and has been such an addition. The online training certification was very informative and training top notch. It definitely prepared me to offer this service. Very happy I took the course!"
– Kat O.
Mobile Teeth Whitening
FOR BEAUTY PROFESSIONALS ON THE GO!
SunnaSmile's Mobile Teeth Whitening is a compact light option that is easy to transport & delivers professional results in the comfort of your clients home. Can you imagine the possibilities?

Host a teeth whitening party with all the girls and earn $180-$375/hour !

STILL HAVE QUESTIONS? Text us the word 'textme' to 1-844-953-1872 and someone from our team will be in touch ASAP!
SEE ALL PACKAGES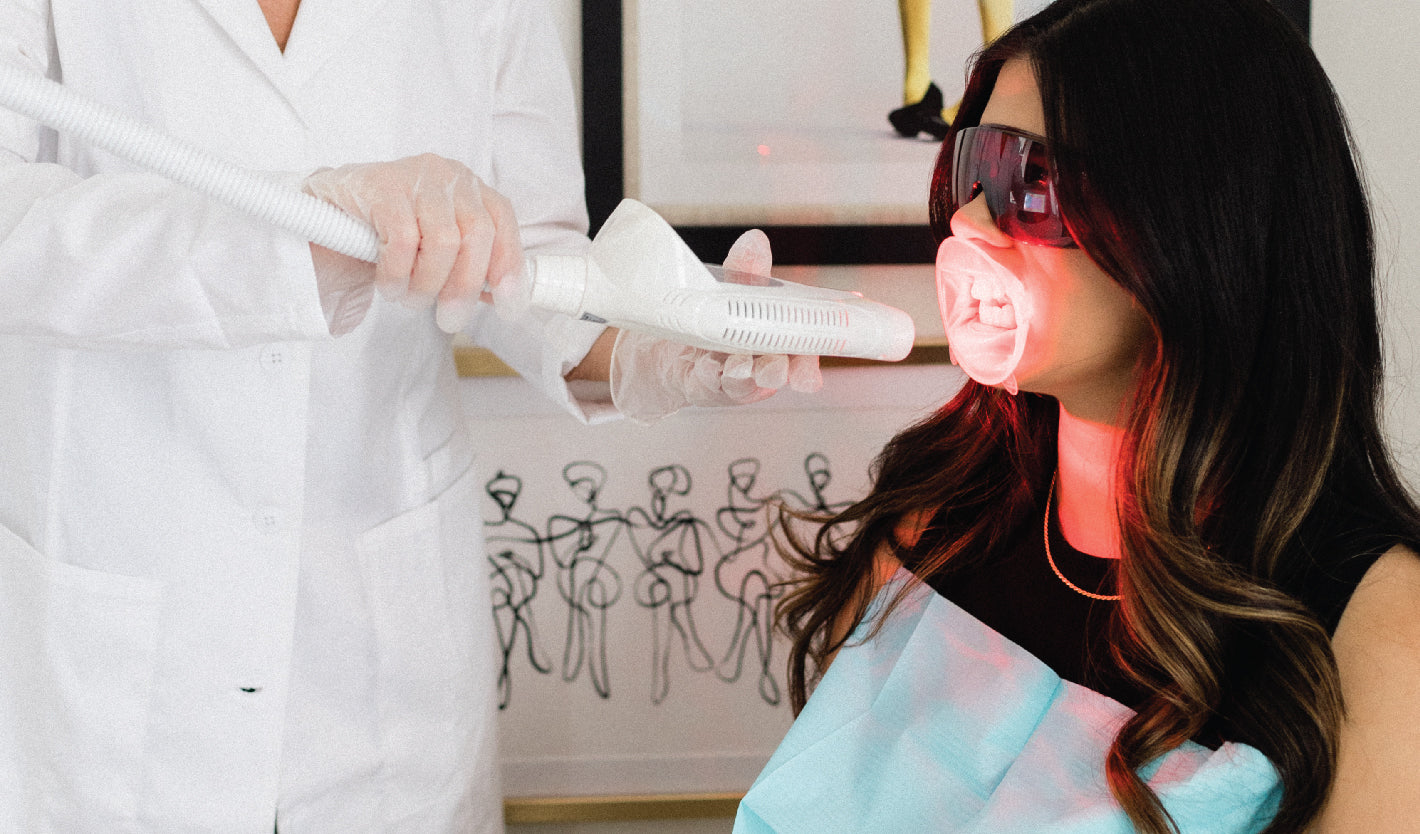 In-Studio Teeth Whitening
Looking for a service you can perform where you can catch up on cleaning or business stuff like answering phone calls, emails or catching up on your social media?

Start generating extra income while you do these activities!

It's easy to set up, no special space or extra equipment needed. Our professional floor light is easy to move, has a flexible neck and sleek design. All you need is a chair and side table (all things you already have!).


GET STARTED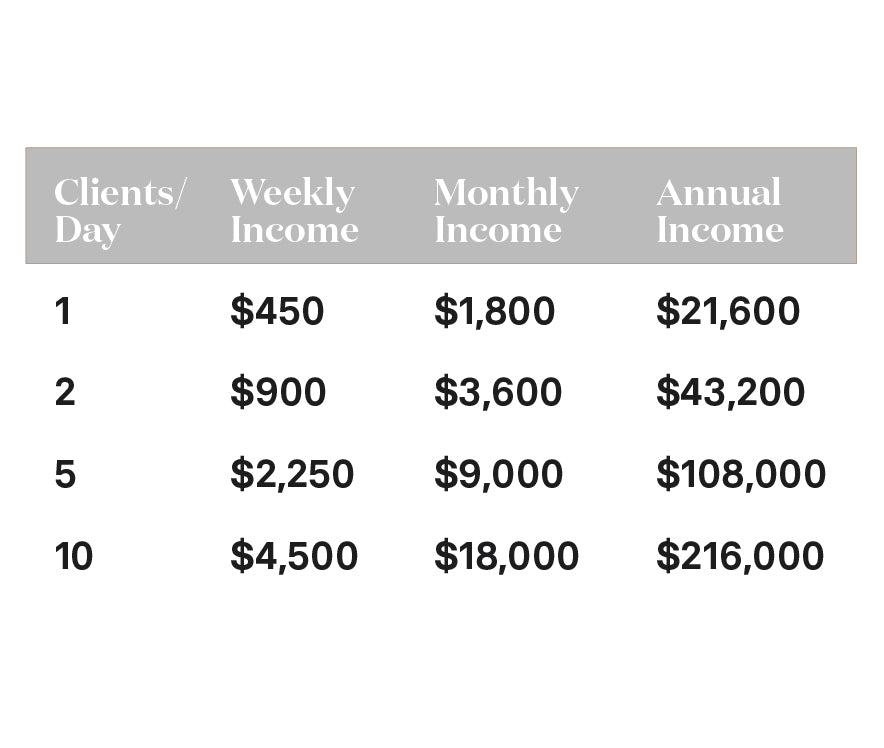 If each of your clients did a Super Gel professional treatment you would profit $90 client
Timeslot: 30 minutes/client
*weekly income is 5 work days
Ready To Start Earning What You Deserve?
YES! I WANT TO GET STARTED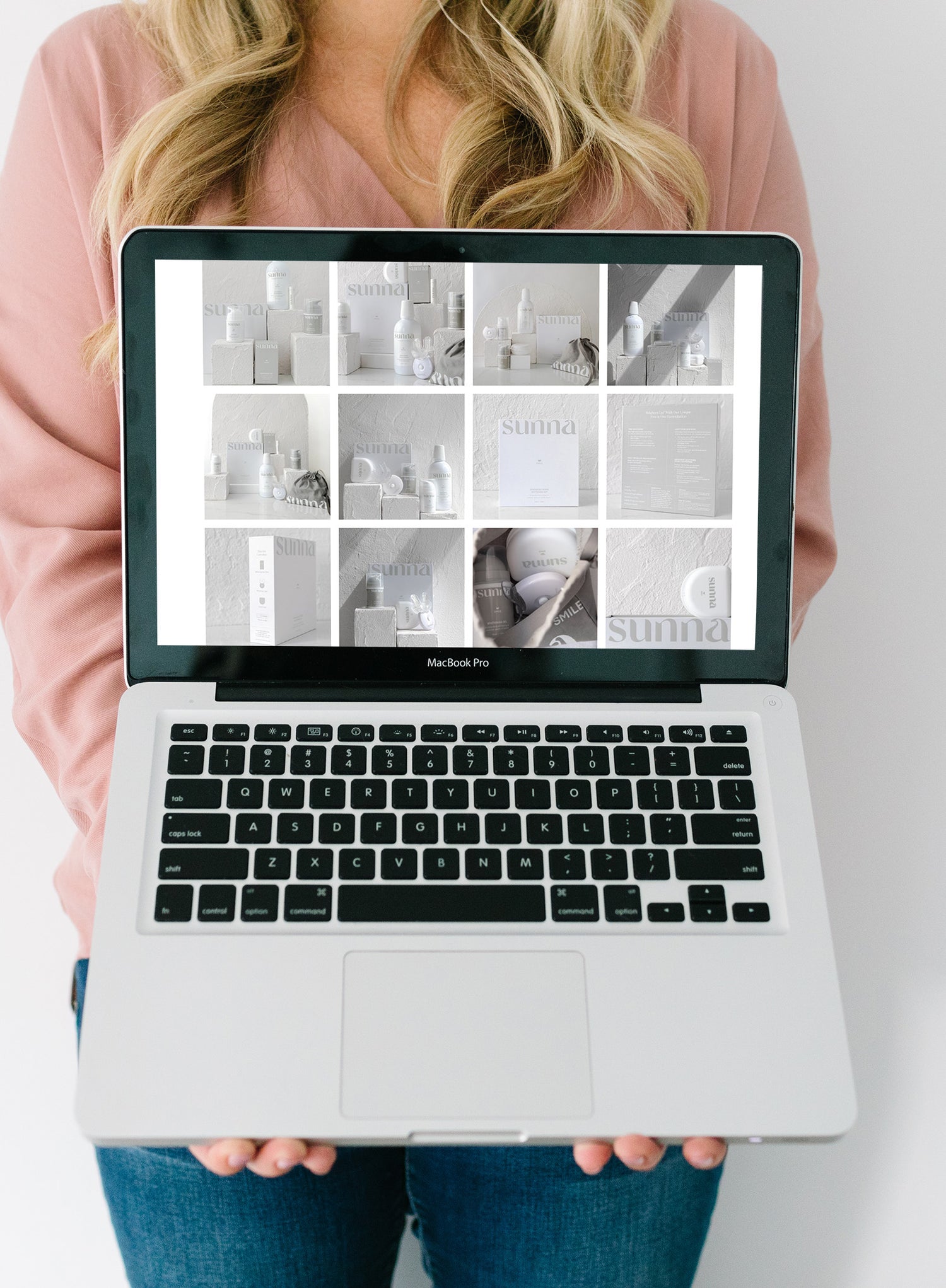 Launch your business with our Free Marketing Materials
Using our launch materials, we will have you up & running online without having to create the materials yourself.
• 1,500+ marketing materials.
• Hundreds of gorgeous photos & graphics you can use for your social media.​
• Royalty Free Downloadable Videos for Reels/Stories/Tik Toks
• An entire library of images and captions for retail, mobile & salon services.​​
• Including 40+ Instagram story slides and more!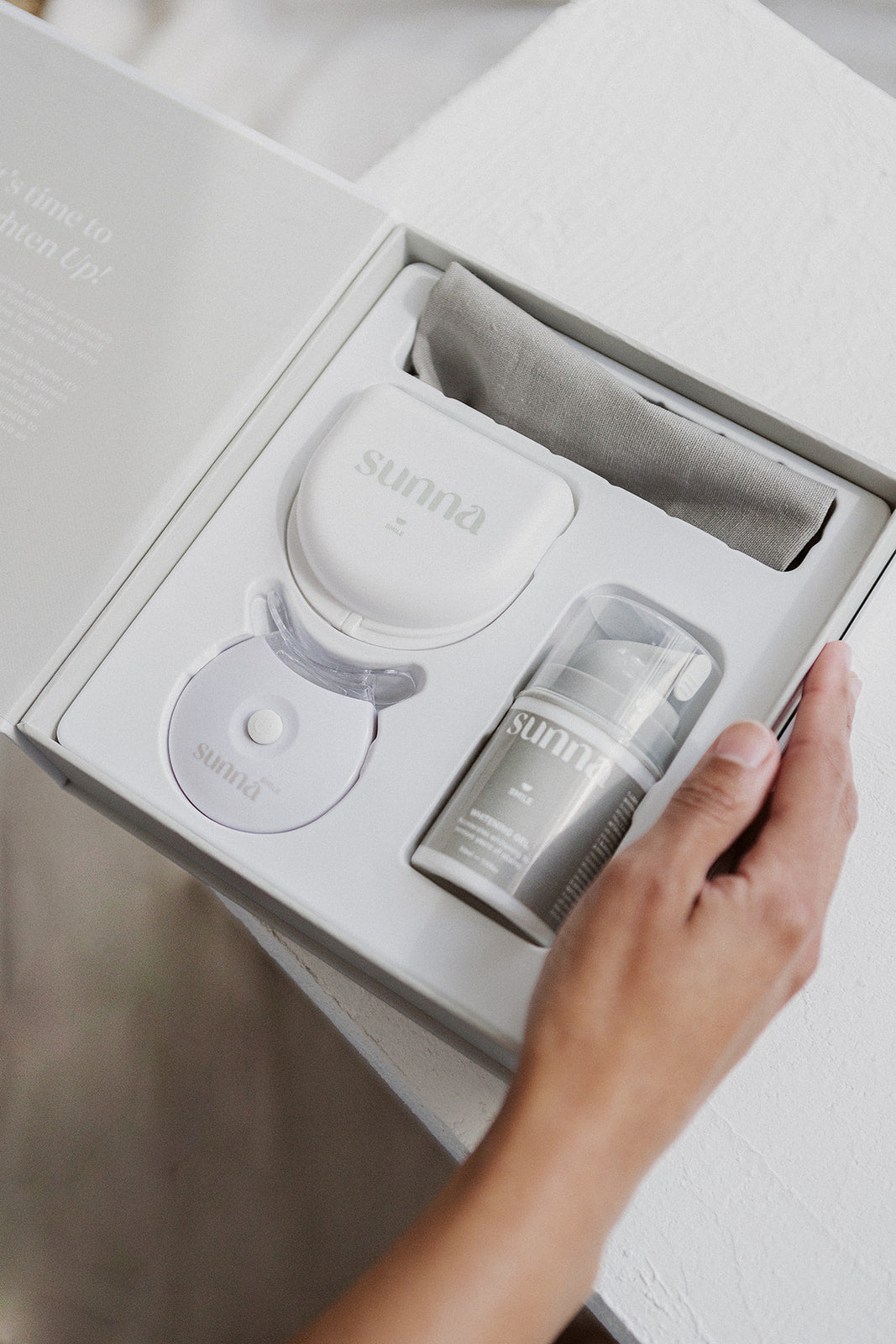 Double your business with Retail
• Get our luxury products at the lowest possible price that you can resell with 100% markup.(example: you pay $25, then sell it for $50)
​• Teeth Whitening maintenance products will have your customers raving about their bright smile!
• Our products are made with natural & organic ingredients, and use sustainable packaging.​
• Beautifully branded products, ready for the perfect Shelfie
SELL RETAIL
Frequently Asked Questions
Q: After I buy the course, do you have equipment & starter kits?

A: After you've enrolled in our certification, you'll have the opportunity to learn about our mobile & in-studio professional LED lights & complete starter packages. Complete starter packages that include equipment start at $782. When you are needing to replenish your supplies, we have tiered/bulk pricing, so the more products you purchase, the bigger the discount! Meaning more profit for you! Our Super Gel Professional Kits, used for the service, cost between $35-$50 per kit depending on how many you purchase. The suggested service price is $150. Your profit is anywhere from $100-$115 for a 20 minute service. Our retail line has standard beauty industry profit margins (100% markup).
Q: Do I need to be a dental professional?

A: No, you don't need to be a dental professional.The SunnaSmile System was designed by Beauty Professionals for Beauty Professionals​. SunnaSmile Professional Products are classified as a cosmetic product. In our online course we teach you how to implement this system into your beauty business as a beauty professional, not a dental professional.
Q: Is sunnasmile safe for sensitive teeth? Will my clients teeth and gums be in pain after?

A: Expect little to no sensitivity after using SunnaSmile; It was formulated with sensitive teeth in mind. It's safe on enamel, protects gums, causes little to no sensitivity, and is a registered natural health product.
Q: What are the ingredients?

A: SunnaSmile combines 9 ingredients that have all been carefully formulated to safely and effectively whiten, heal oral tissue, neutralize harmful bacteria and remineralize teeth.​ The active whitening ingredients include a one-of-a-kind combination of Hydrogen Peroxide, Carbamide Peroxide and Xylitol, as well as naturally compounded ingredients that increase whitening, reduce sensitivity, remineralize teeth and heal oral tissue, including:​
Calcium Lactate - Remineralizes teeth. (Enhanced effect when combined with Xylitol)
Potassium Citrate - Desensitizing agent.
Aloe - Heals and soothes skin irritation.
Neem - Antibacterial used to heal gums and prevent plaque.
Zinc - Aids in preventing plaque buildup.

Note: Calcium Lactate is not milk derived
Q: Is this an MLM?

No. Sunna is not an MLM. We sell direct to you or sell direct to your customers through your affiliate link or drop shipping.
Q: Are there minimum order quantities?

No. No minimums. No contracts.
Q: What is your return policy & customer satisfaction guarantee?

Please see our policy HERE
Have more questions?
Our Sunna Experts are here to help.